India's one of the largest auto market leader, Tata Motors is taking a minor price increase on the
Tata Nano
, effective from November 1, 2010, to partially neutralise the steep increase in input costs in the last two years. The average increase is about Rs.9000/- (ex-showrooms), with prices varying from city to city and model to model. As of now, Tata Motors has announced open sales of the
Tata
Nano
in the states of Kerala (since August 2010) and Karnataka, Maharashtra, Uttar Pradesh and West Bengal (since October 2010). The company has tied up with 39 Banks, NBFC, Cooperative and Gramin Banks to offer customers with loans for purchasing the Tata Nano at attractive rates of interest. More such arrangements are in process. As a result of these tie-ups, the Tata Nano can be owned at an EMI of less than Rs. 3000/-.
The
Tata Nano
offers an incredibly spacious passenger compartment which can comfortably seat four adults. With a length of just 3.1 metres, width of 1.5 metres and height of 1.6 metres, the Tata Nano has the smallest exterior footprint for a car in India but is 21 per cent more spacious than the smallest car available today. A high seating position makes ingress and egress easy. Its small size coupled with a turning radius of just 4 metres, makes it extremely manoeuvrable in the smallest of parking slots. The Tata Nano is available in three variants including Tata Nano Standard,
Tata Nano
CX and Tata Nano LX.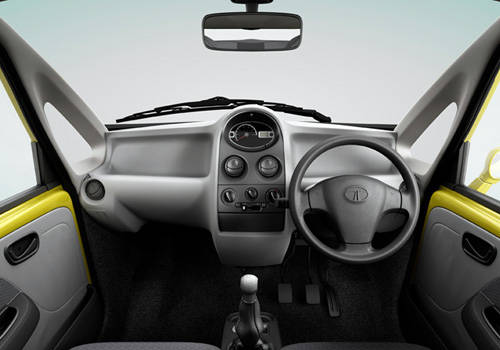 The standard version of Nano comes in three colour options, single-tone seats and fold-down rear seat. Behind of it,
Tata Nano
CX is also available in five exciting colour options, with heating and air-conditioning (HVAC), two- tone seats, parcel shelf, booster-assisted brakes, fold-down rear seat with nap rest. The luxurious version of Tata Nano LX is loaded with luxury features which makes it more stylish and comfy including fabric seats, central locking, front power windows, body coloured exteriors in three premium colours, fog lamps, electronic trip meter, cup holder in front console, mobile charger point, and rear spoiler.