It's been two months from its launch. 23 March 2008
Tata Nano
was unveiled and witnessed a historical response. It has been a dream of every Indian family especially for those owning a four wheeler was a distant dream. Credit goes to the team at Tata Motors that a car once thought impossible by the world is now a reality. Now hype and hoopla is subsided and the advance booking part is also over. The whole nation eying eagerly to catch the glimpse of the Nano on the road.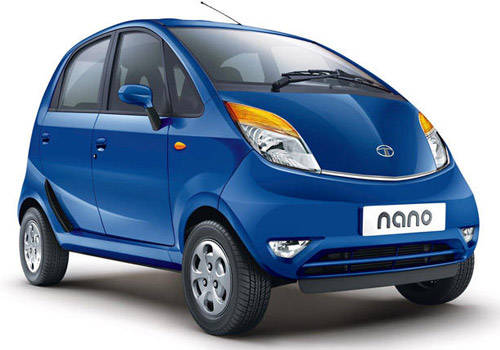 Under the hood of the small car lies a powerful 643 cc petrol engine, which is supposed to churn out a power of 33 PS. The engine is equipped with Multi Point Fuel Injection system. It is for the first time that a car has been powered by a two-cylinder gasoline engine, with a single balancer shaft. Tata Nano promises to deliver a top speed of 90 km/hour and good fuel economy.
Tata Nano
has been designed by keeping in mind the typical small Indian family. With mono-volume design wheels at the corners and power-train at the rear, the small car is surely going to set a new benchmark for mini cars. The super-compact car has roomy interiors, spacious enough to provide a comfortable ride for a family of four.
The sizeable passenger compartment of Tata Nano provides generous legroom. The four-door vehicle, with high seating position, enables easy entry and exit for its occupants. Although the cabin has minimalist equipments, it looks quiet elegant and spacious. Speedometer, fuel gauge, and oil light are integrated into a simple, but smart looking dashboard.
The adequate ground clearance of
Tata Nano
enables effortless maneuver through the busy Indian roads, both in rural and urban areas.
Tata Nano
comes equipped with all the safety norms that a compact car is expected to have. It has a strong passenger compartment with crumple zones, intrusion-resistant doors, seat belts, strong cushioned seats, and anchorages, which provide adequate safety to the occupants. The rear tailgate glass is bonded to the body. Further enhancing the safety are its tubeless tyres.
Tata Nano
comes in two variants - standard and luxury. The price of the world's cheapest car is expected to be approximately Rs. 1 lakh. The standard variant of Tata Nano are available in Racing Red, Lime Yellow, Ivory White and Ink Blue colors, while the luxury versions come in Lunar Silver, Lava Grey, Lagoon Blue, Ivory White and Apple Green colors.
Know more about
Cars in India
.